Our housing programme has been established to support whānau access to affordable, healthy housing and homeownership.
With our current model, Ka Uruora will share the purchase cost and ownership of housing offered until whānau can afford to take full ownership.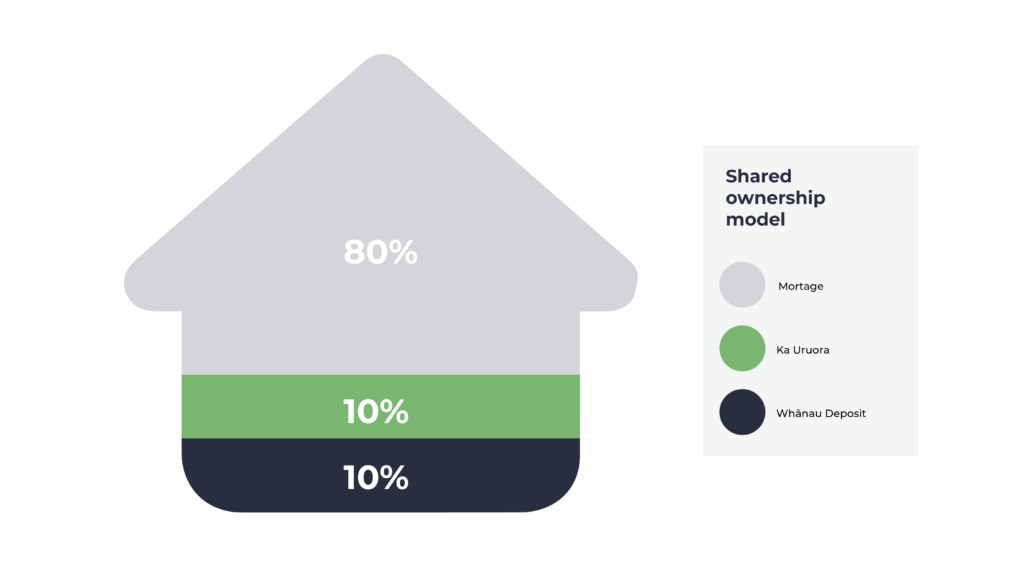 In the example above, a whānau had a 10% deposit and could get a mortgage to cover 80% of the cost of their first home, meaning they were 10% short of the total cost. Ka Uruora purchased the remaining 10% to help the whānau into their own home. Once the whānau can afford to own the whole house, they purchase the remaining 10% from Ka Uruora and then continue to pay off their mortgage.
The programme has been developed by Te Atiawa and Taranaki Iwi with key funding support from Toi Foundation, Te Puni Kōkiri and Te Tumu Kāinga.
Currently, the Ka Uruora housing programme is available by invitation to members of eligible Iwi who have signed up for WhānauSaver and have completed the Sorted Kāinga Ora programme. 
If you're a registered member of an eligible Iwi, sign up for WhānauSaver now and make sure you're prepared for any future housing opportunities.
If you're not registered, but you whakapapa to an eligible Iwi, register now.
If you're Iwi isn't eligible, speak to your Trust Board now about joining the Ka Uruora programme.